A Lecture on Belt & Road by Ambassador Sun Weidong & Senator Mushahid Hussain
---
Source : Pakistan-China Institute (PCI) Date : 04-03-2017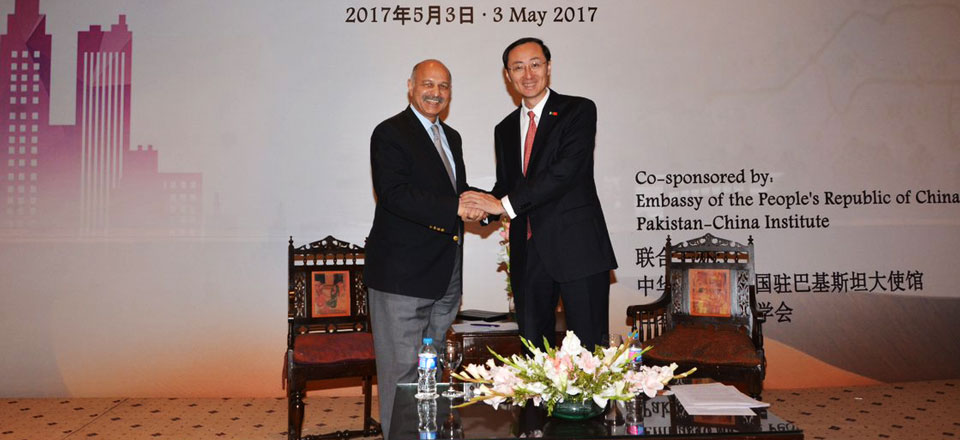 A Lecture on Belt & Road by Ambassador Sun Weidong & Senator Mushahid Hussain
p>Islamabad, May 4: Pakistan will participate in the May 14 Silk Road Summit in Beijing with a high powered delegation led by the Prime Minister, in which 28 other world leaders, representatives of 110 countries and 61 international organisations including the UN Secretary General will also take part. This was stated by the Ambassador of China, Sun Weidong, during his talk on the 'One Belt, One Road' (OBOR) Initiative at a local hotel which saw a presence of a packed audience of parliamentarians, diplomats, think tanks, academia, business community and media. The event was jointly organised by the Chinese Embassy and Pakistan-China Institute.
In his opening remarks, Senator Mushahid Hussain, Chairman of the Parliamentary Committee on CPEC, termed the OBOR as the 'biggest development and diplomatic initiative' of the 21 st Century, since it will include some 100 countries of Asia, Middle East, Africa and Europe, who are 70% of the world's population, contributing 55% of the global GDP, and nearly 25% of the world's trade. He said that about $ 5 trillion would be spent on infrastructure in the next 5 years in the OBOR countries.
Senator Mushahid Hussain said that while OBOR is an alternative vision of development post 9/11
Three words aptly describe OBOR:
Inclusive: Not against anybody and includes every country.
Connectivity: Europe and Asia by rail and road, and Asia and Africa through the sea. The train from China to London within a fortnight is the example of that connectivity.
Cooperation: It is a win win situation for all. There are no losers, all win, all benefit and all gain.
He added that CPEC is the flagship of OBOR, the pilot project, the single biggest comprehensive project between any two countries in the history of international relations.
Ambassador Sun Weidong said in his wide ranging and comprehensive talk that China Civilisation was proud to contribute to global connectivity through the Silk Road which was 2000 years old, and he mentioned the historical cultural connection between China and Pakistan including the influence of Buddhism. Referring to CPEC, he said 19 Early Harvest Projects, including 11 in Energy, were on track worth $ 18.5 billion, while Chinese enterprises were providing employment to 60,000 Pakistanis. He added that CPEC 'will help Pakistan to improve the energy supply, enhance transport infrastructure, thus inspiring its investment and business environment'.
In his concluding remarks, Senator Mushahid Hussain said that Pakistanis appreciate the fact 'our time tested, best friend, China, has reposed a vote of confidence in the future of Pakistan with what is the biggest and most comprehensive bilateral economic development package between any two countries in the history of international relations.
Gallery
---