PM Nawaz Sharif says Senator Mushahid has been flag bearer of Pakistan China Friendship
---
Source : Nihao-Salam Date : 15-04-2017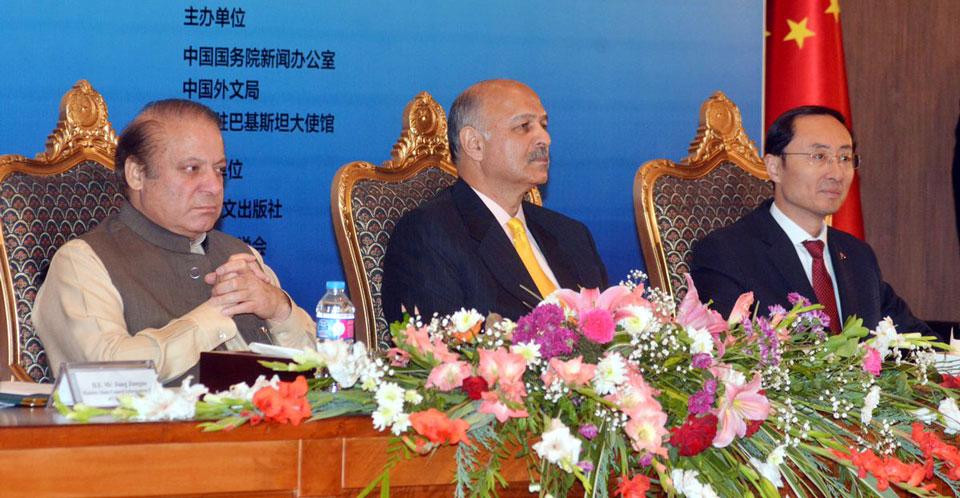 PM Nawaz Sharif says Senator Mushahid has been flag bearer of Pakistan China Friendship
Islamabad,April 14: "Senator Mushahid Hussain, chairman of Parliamentary Committee on China-Pakistan Economic Corridor has been flag bearer of Pakistan China Friendship".
Pakistan Prime Minister Muhammad Nawaz Sharif made these remarks at the book launching ceremony of the Urdu language edition of the book "Xi Jinping: The Governance of China" held in Islamabad on Friday
"Mushahid Hussain played vital role in clearing misperceptions about CPEC development projects purely under the national interest", Nawaz Sharif said.
PM also stressed by saying "people like Mushahid Hussain can rise above political considerations,and work for national agenda of development by moving forward the vision of China Pakistan cooperative partnership".
Nawaz Sharif concluded by saying," i hope that Mr.Mushahid Hussain will continue good work of strengthing Pakistan China friendship through public diplomacy endeavors".
The book "Xi Jinping: The Governance of China" contains 79 speeches, talks, interviews, notes and letters of the Chinese leader between November 2012 and June 2014. To date, it has been translated into 16 languages and has a distribution of over 6.2 million copies around the world.
The book helps readers around the world better understand China's development, domestic and foreign policies, and response to the concerns of the international community.
The launching ceremony was attended by around 300 Pakistani and Chinese officials, academicians and researchers.