Roundtable Discussion with Andrew Small Author of 'China-Pakistan Axis: Asia's New Geopolitics'
---
Source : Pakistan-China Institute Date : 26-02-2015
The Pakistan-China Institute hosted a Roundtable discussion on the newly published book, 'The China-Pakistan Axis: Asia's New Geopolitics' by Andrew Small, on 24th February 2015. Present on the occasion was the author himself, Madam BaoJiqing and Mr. Du Genqi from the Chinese Embassy, General (R)TalatMasood, Dr. IlhanNiaz and other renowned scholars. The session was chaired by Ambassador Riaz H. Khokhar, former Foreign Secretary, who provided an overview of the current transition in Pak-China relations.
Expressing his views, Ambassador Khokhar asserted that China must join SAARC, as it constitutes the only regional power that can help bring peace and stability to the region. He also added that Pakistan must address its internal political and economic matters and should adhere to the Chinese model of development that benefits the common man. Ambassador Khokhar stressed that China and Pakistan have had durable and friendly bilateral relations; however, both the neighbors are now passing through a transitional stage due to rigorous economic development. "Under these circumstances, Pakistan should embrace a proactive role and should follow up with this economic expansion with courage and commitment," he remarked.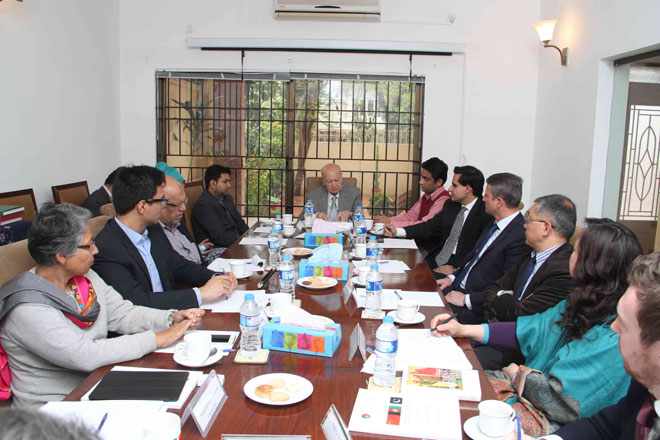 Andrew Small is a transatlantic fellow with the Asia program at the German Marshall Fund of the United States, which he has helped lead since 2006. His book depicts that China can play a central role in Asia's geopolitics; from India's rise to the prospects for a post-American Afghanistan and from the threat of nuclear terrorism to the continent's new map of mines, ports and pipelines.
Deliberating on China-Pakistan relations, Andrew Small remarked, "This relationship has entered into a new phase of cooperation after 2011 with the China-Pakistan Economic Corridor initiative; however nothing can be materialized without improvements in the security situation." Small cited historical, strategic and economic aspects along with case studies from China and Pakistan to support his views. He also believed that China's cordial relations with Pakistan and Afghanistan is an important factor as China's meaningful intervention could help achieve a peaceful Afghanistan.
The author opined that China is Pakistan's greatest economic hope and the most trusted military partner, while Pakistan lies at the heart of China's geostrategic ambitions. From its rise as a global naval power, to the grand plan for reinventing the Silk Route, said Small, China seeks close cooperation with Pakistan. "This book attempts to explain the ramification of Sino-Pakistan ties for the West, India, Afghanistan, and for the Asian region as a whole," he explained.
Senator Mushahid Hussain, Chairman of the Institute, while exchanging views with the participants, rationalized why Pakistan-China relations have been strong, stable and resilient for over 50 years. "It is a unique bond in the annals of contemporary international relations". The senator emphasized that Pakistan is the only country to have always unreservedly supported China's core interests, and there is a national consensus within Pakistan to support to China. He lauded China for understanding the constraints and pressures Pakistan has had to face, and credited the mature Chinese leadership in this regard. He also highlighted the importance of the China-Pakistan Economic Corridor, as it could pave way for stability and economic development, not only by serving as a uniting factor for the federation of Pakistan, but also by promoting regional cooperation in 'Greater South Asia'.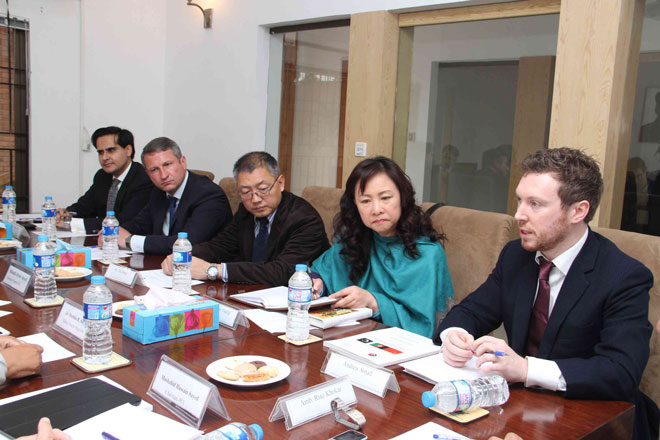 The discussion was followed by an interactive question and answer session.
Related Article: BOOK REVIEW: THE CHINA-PAKISTAN AXIS: ASIA'S NEW GEOPOLITICS